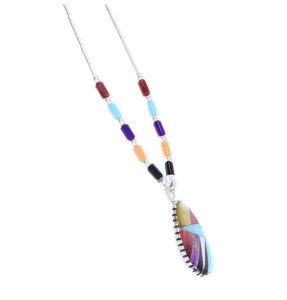 Liquid Silver Jewelry: Ancient Native American Technique Lives On
The Native American people have always been recognized for their beautiful and unique jewelry pieces. Whether it's a sterling silver bracelet adorned with turquoise nuggets or a basket-weave of loops on a pair of chandelier earrings, the allure of Native American design is hard to beat. Liquid silver jewelry is one of these elegant creations that have passed on from generation to generation.
Liquid Silver Jewelry: Simple and Sleek
Liquid silver jewelry is easy to define. It's shiny, fluid-like and timeless in appearance. The Navajo, Zuni and Hopi have been flawlessly designing liquid silver jewelry for many, many years, and the technique remains a popular jewelry favorite.
When one examines a necklace or dangling earrings made of liquid silver jewelry, one sees a shiny, almost watery effect. The brilliance comes from the tiny sterling silver tubes strung together on a steel string. In unison, the tubes or beads give off a smooth fluidity along a seamless silver rope. It's amazing to think that a piece of liquid silver jewelry is hand-strung and can involve multiple, intricately woven strands.
Colorful Stones Beautify Liquid Silver Jewelry
Native American artisans have long been admired for their stunning sterling silver in turquoise rings, bracelets, necklaces and earrings. Turquoise has often been woven into elegant liquid silver jewelry designs, but there are other gorgeous gems, too.
Coral, Tiger Eye, Lapis, Azurite, Onyx and Gaspeite are just a few of the stunning stones that add a powerful punch to a liquid silver jewelry collection.
Liquid Silver Jewelry: Delicate and Durable
Although liquid silver jewelry looks thin and almost breakable, it is far from that. This chic sterling silver is .925. It's authentic and tough.
Sterling silver is an alloy of silver, containing 92.5% of silver by weight and 7.5% other metals, usually copper, by weight. The minimum millesimal fineness of 925 is the standard in this silver.
Smart Investment: Liquid Silver Jewelry
If liquid silver jewelry is taken care of, it will bring the wearer many years of pleasure and beauty. Like all treasured pieces, liquid silver jewelry has a few steps to remember:
Sterling silver tarnishes, but the more it's worn, the less care it needs.
Wash liquid silver jewelry in warm water with a mild detergent.
To avoid spotting, dry immediately after washing.
Liquid silver jewelry is one of the loveliest and lustrous of all metals!