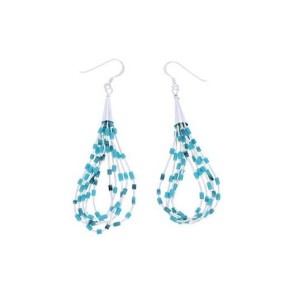 Lovely Liquid Silver Earrings: Elegant + Chic!
Liquid silver jewelry resembles a seamless rope of tiny tubular beads. For many generations, Native Americans from the Southwest like the Navajo, Zuni and Hopi have been perfecting the technique of creating unique, shimmering sterling silver on a steel string. Liquid silver earrings look gorgeous against every skin tone and show off the complexion beautifully.
Liquid Silver: Watery and Sleek
The name says it all. If you've ever owned a pair of liquid silver earrings, then you can see how the words, 'watery and sleek' define this special Native American-inspired jewelry.
There is brilliant shine to liquid silver earrings. This seamless silver string of beads is both delicate and chic to the woman who puts them on. Liquid silver earrings are also considered a sexy type of jewelry.
Adding Precious Stones To Liquid Silver Earrings
Liquid silver is gorgeous on its own, but when you accent a pair of liquid silver earrings with a pretty gemstone, the wow factor goes up even higher! Coral, lapis, purple agate, azurite and malachite are just a handful of the colorful stones that work stunningly intertwined into a pair of liquid silver earrings.
Liquid Silver Earrings: It's the 925
Most are unaware that liquid silver earrings are made from authentic 925 sterling silver. The jewelers' definition states that sterling silver is an alloy of silver. It contains 92.5% by mass of silver and 7.5% by mass of other metals, generally copper. The sterling silver standard has a minimum millesimal fineness of 925.
Who knew so much chemistry was involved in the artistic design of liquid silver earrings?
Caring for Your Liquid Silver Earrings
The more you wear a piece of sterling silver, the more it will remain shiny and clean. For those who have tucked away a pair of liquid silver earrings or necklace for some time, an unattractive tarnish will appear when taken out to wear.
Whether it's a petit-point cuff bracelet or pair of dangling liquid silver earrings, all sterling silver will discolor over time when not in use. Jewelers advise washing your liquid silver earrings, etc. in warm soapy water, rinsing off and wiping with a soft cloth.
Jewelers advise always keeping your liquid silver earrings and other fine sterling pieces in air-tight containers or zip-lock bags.
Native American jewelry is both unique and striking. Liquid silver earrings will definitely get you noticed!